Haku Melanoshield Mask
Medicated brightening mask 30mL × 1 pack (1 upper part mask, 1 lower part mask)
Prepare skin with face lotion before using.
Open the package with dry hands and take out one mask at a time. First apply mask 1 (upper), then apply mask 2 (lower).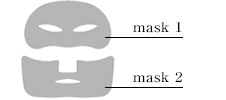 Take out mask 1 (upper) and unfold it. Position the holes around the eyes before spreading the mask over the forehead. Let the mask adhere to the skin, paying particular attention to the sides of the nose.

After approximately 10 minutes, remove the mask and smooth in the remaining beauty serum.
Made in Japan